School Holiday Rates available – call us to find out!

0800 427 623
0800 4 BROADWAY
+64 9 529 3550
Welcome
WELCOME TO OFF BROADWAY MOTEL NEWMARKET AUCKLAND
4 star Qualmark rated Apartment Style Accommodation with up to date facilities available in central Auckland Newmarket area. Simply the best location for travelers/business professionals.
Fully serviced rooms with private balcony's, Air-Conditioned comfort with lovely cotton duvets and neutral decor. Wireless broadband and Lan Broadband connection available to all guests. Large Studios with lots of space with private balconies. Bathrooms with bath (shower over). Queen-size bed and King single bed. Small Studios with a queen bed also available.
Prices $ 129 onwards (special prices also available on selected days).
Off Broadway Motel is the nearest Motel to Newmarket shops, cafés, bars, Olympic heated pool, spa, sauna, steam room, Mercy, Starship Hospital and gymnasium. 15 Minutes to Sylvia Park Shopping centre, 3km to Auckland CBD and casino, 3.5km to Vector Arena and 3km to ASB Showgrounds. 16km to airport and Rainbows End Amusement park. 8km to Kelly Tarlton's Underwater World. Close to Parnell and Remuera shopping centres, Ellerslie and Alexandra Park racecourses, university, showgrounds and major Auckland hospitals. On Auckland's bus route, 3 km to EDEN PARK rugby & Cricket venue.

  Free WiFi available in all rooms (conditions apply).
Local Attractions
Local Attractions
Auckland has a huge number of visitor attractions including outdoor and adventure activities, shopping and nightlife activities. There are attractions suitable for all ages and travelers, and you can be assured that there is always plenty to see and do in Auckland. The following are just a few of the attractions Auckland and Newmarket has to offer.
Sky Tower
A truly captivating experience awaits visitors to Auckland's Sky Tower. At 328 metres, it is the tallest man-made structure in New Zealand and offers breathtaking views for up to 80 kilometres in every direction.
Travel up in the glass-fronted lifts to one of the three spectacular viewing platforms, or for more thrills and excitement, SkyWalk round the pergola at 192 metres up or SkyJump off the Tower!
Several restaurants are located within the complex.
Experience Peter Gordon's chic and elegant restaurant – The Sugar Club, relax with a coffee or light refreshments at Sky Lounge or dine at Orbit – Auckland's only 360-degree revolving restaurant.
Sky Tower is one of New Zealand's most exhilarating and spectacular tourist attractions, you will be amazed at what you can see and do under one roof!
Local Parks
Newmarket Park
Park address – 51 Ayre Street, Parnell.
Newmarket Park is an approximately 6 ha large park in Auckland, New Zealand. It is located in the triangle between three suburbs, northeast of the Newmarket, southeast of Parnell and northwest of Remuera. It is located partially on a higher, manmade plateau, with the remainder of the park dropping steeply down towards Newmarket Stream running to Hobson Bay along the eastern edge of the park. In the early 2010s, a major remediation and upgrade of the park occurred, which was completed in April 2012.
Mount Hobson
Address – 181/225 Remuera Road, Remuera
Mt Hobson is one of 34 volcanic cones in the Auckland area. It is a significant landmark that is visually, culturally and geologically significant. Mt Hobson has a long history of Maori occupation, and is one of the best preserved and least modified of the volcanic cones on the Auckland isthmus.
Most of Mt Hobson is maintained in pasture which is currently grazed by cattle. Large exotic and native trees are present on the northern slopes and isolated trees pm the north eastern face. It provides important open space that caters primarily for pedestrians and informal, passive recreation activities such as walking and sightseeing. Much of the land area of the reserve, including the summit, ridge and many of the steep slopes, is in pasture grazed by cattle. The grasslands are punctuated by scattered pohutokawa trees, with small groves on the westerly slopes and old hawthorns on the southern side of a collapsed rim. A woodland of large trees extends along the lower northern and eastern margins of the reserve and up the north easterly slopes to the edge of the summit ridge. English oaks and pohutokawa which are the most common species.
A local feature of note is the long established commemorative planting of daffodils in a war memorial on the lower northern slopes. The vegetation on the reserve provides an important habitat for wildlife. Mt Hobson is a large area of open space that provides a unique environment through the presence of archaeological and cultural sites, geological formations and landscape values. It is easily accessible and caters for passive, informal activities including walking, dog walking, and jogging. From the summit and upper slopes of the cone there is a virtual 360 degree panorama of the city. Facilities include lookout and drinking fountain.
Museum of Transport and Technology (MOTAT)
The renowned museum is situated on a large footprint and house relics of the past including World War 2 aircrafts, trains and items used in yesteryears. Close to the Auckland Zoo which would make an ideal trip to both attractions.
Location 805 Great North Road, Western Springs. Phone (09) 846 0199
Auckland Museum
The Auckland Museum houses pricesless treasures of historic New Zealand, and is houses right in the middle of the beautiful Auckland domain and public reserve. Highly recommended for all visitors to Auckland.
The museum is open daily between 10am and 5pm. Admission prices are on the Auckland Museum website at www.aucklandmuseum.com.
Location The Auckland Public Domain. Phone (09) 306 7067
Kelly Tarlton's Antarctic and Underwater World
One of Auckland's top tourist attractions, at Kelly Tarlton's you will discover thousands of fish and sea creatures, surrounded by over two million litres of water. The facility also includes an amazing Antarctic discovery including penguins in fresh snow and ice.
Location 23 Tamaki Drive, Orakei Phone (09) 528 0603
Misson Bay Beach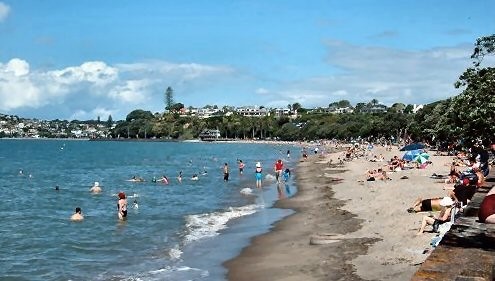 Enjoy a coffee or snack in any number of cafes along the bustling stretch of beach known as Mission Bay. Always very lively and popular with locals and tourists alike. Have a refreshing swim at Mission Bay!
Location Mission Bay Beach, Tamaki Drive
Auckland Zoo
Enjoy an outing and stroll through the landscaped Auckland Zoo, containing a vast collection of exotic and rare animals, including giraffe, lions, zebras, the ever so famous kiwi and so much more.
Location Motions Road, Western Springs Phone (09) 360 3800
The Olympic Pools and Fitness Centre
This facility has a 50 metre indoor pool – ideal for lap swimming – a learner's pool, sauna, spa and steam room. Various swim schools are available for all levels including water confidence, learn to swim and squad training. Upstairs is a sophisticated fitness centre, which incorporates a continual circuit, a large selection of cardio equipment and ample machine ad free weights. Highly trained staff provide full fitness assessments, individualized exercise programmes and personal training. There is also a registered crèche at the pool, which provides daily educated sessions for your children while you swim and exercise. The facility is run in partnership with the Olympic Pools and Fitness Centre Ltd. Check their website for more information www.theolympic.co.nz.
Bicycle Hire
Very healthy and environment friendly option to see Auckland on bicycle. Why not call following…. it is cheap as $15 per 4 hours. If you are looking for a nice and eco-friendly way to get to know the city, please contact the reception or following contacts. All bikes are new and fully maintained. Whether you are a tourist, commuter or a bike enthusiast please call 0800566702, 99 (Beach Road – Auckland CBD) or go to HireBikes.co.nz you will find a great bike for your needs.
For further information about cycle, run and walkway maps go to following website:
https://at.govt.nz/cycling-walking/auckland-cycle-run-walkway-maps/
Playing Golf in Auckland
Want to play GOLF while you stay at Off Broadway Motel. Following are the golf courses surrounding us.
Royal Auckland Golf Club, Auckland, 09-276 6149
Chamberlain Park Golf Course, Auckland, 09-815 4999, Open 24 hours
Remuera Golf Club, Auckland, 09-524 4288, Open until 8:00 PM
Akarana Golf Club Inc, Auckland, 09-621 0024
Howick Golf Club Inc., Auckland, 09-535 1004, Open until 5:00 PM
Titirangi Golf Club, Auckland, 09-827 5749
Auckland Golf Association, Auckland, 09-522 0491
Pakuranga Golf Club, Auckland, 09-5343818, Open until 5.30PM
Maungakiekie Golf Club, Auckland, 09-6210090
Golf Warehouse Superstore Auckland, 09-3585857, Open until 5.30PM
Treasure Island Adventure Mini Golf, Auckland, 09-2757531, Open until 9.00 PM
Aviation Golf Course, Auckland, 09-2756265
JK's World of Golf, Auckland, 09-2756080, Open 24 hours
Redwood Park Golf Club, Auckland, 09-8338253
Takapuna Golf Course, Auckland, 09-4435002
Formosa Golf Resort, Auckland, 09-5360005
Lilliputt Minigolf Lost in Time, Auckland, 09-3684141, Open until 10.00 PM
Room Types
Executive Suite
Private balcony
Super Kingsize Bed
Spa bath for two
Separate Shower
Air Conditioning / heat pumps
Sky TV
Large Studio Room
Queen bed and King Single bed
Shower over a bath
Air conditioning / heat pumps
Sky TV
Lots of space
Small Studio Room
Queen size bed
Shower
Air Conditioning / Heat pumps
Sky TV
Facilities & Services
OUR FACILITIES INCLUDE:
Daily Service
Individual air-conditioning with remote control
Electronic door locks
Free Internet (conditions apply)
Free undercover parking
Lift access
Free guest laundry
A DDI phone line to every room
Bedside phone, business phone at workdesk plus data port Fax available to your room on own DDI line
Sky TV
Free Car parking
Mini bar, fridge, microwave, tea/coffee making facilities
Hair dryer iron and ironing board
Drycleaning service/daily
Continental and cooked breakfast delivered to your room
2 access facility suites
Auckland transport by Bus
Mon to Fri: Every 10 mins from 6.30am to 8.00pm*
Mon to Fri: Every 15 mins from 8.00pm to 11.00pm*
Saturdays: Every 15 mins from 6.30am to 11.00pm*
Sundays & Public Holidays: Every 15 mins from 7.00am to 11.00pm*
Air conditioned with designer comfort seats
Wheelchair and pushchair friendly buses
City Link Bus Around Auckland
The easiest way to get around Auckland's CBD.
The City LINK is the easiest way to get around Auckland's CBD. It runs from Wynyard Quarter, along Queen St, up to K-Rd and then back down Queen Street. All the City LINK buses are bright red and are easy to spot. There's no need for a timetable either as the services run on such a regular basis. Here are the key spots that will be right on your route or a one minute walk from where you hop off.
There is a $1.00 maximum adult and tertiary cash fare and 50c maximum child cash fare.
The City Link runs through the centre of the city and Wynyard Quarter
Links with waterfront tram, trains, ferries, Northern Express and other buses
Britomart – Queen St – K-Rd (Return)
Wynyard – Britomart – Queen St – K-Rd (Return)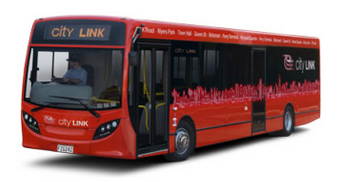 Inner Link
The Inner LINK is the easiest way to get around Auckland's inner city
The Inner LINK is the easiest way to get around Auckland's inner city. It runs from the Britomart Train Station, out to Parnell, through Newmarket, along K-Rd, Ponsonby Rd, past Victoria Park and then back to Britomart via SkyCity. The buses are bright green and the service runs on such a frequent basis that timetables are not required.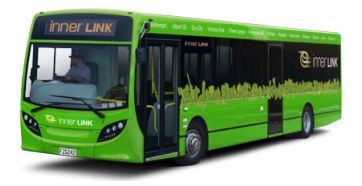 Here are some fantastic all-you-need spots offering arts and culture, dining, entertainment and shopping that will be on your Inner Link route.
Skycity, with a two minute walk to Federal Street
Links with trains, ferries, Northern Express and other buses
Cost effective way to get between the inner City and nearest suburbs
Frequent services mean minimal waiting times
Outer Link
Travel the outer rims of the city
The Outer LINK is the easiest way to get around the inner suburbs of Auckland City. It runs from Wellesley St, past the Universities, through Parnell, Newmarket, Epsom, Balmoral, Mt Eden, St Lukes, Mt Albert, out to the Meola Rd entrance to MOTAT, through Westmere, Herne Bay and then back to Wellesley St. The buses are bright amber and operate on a frequent basis, so no timetables are required. There are 3 fare stages on the Outer LINK, you will only ever pay for a maximum of two. See route map for location of fare stages.
Here are the best places to hop off in the city from the Inner Link route
Wellesley Street is an all-you-need stop with shopping, dining and entertainment right at the stop or a few minutes walk away, here are the highlights of this area
Aotea Square a beautifully designed outdoor area that is surrounded by the best theatres and entertainment in Auckland including Q Theatre, Aotea Centre, Event Cinema and The Basement.
A short walk from Wellesley Street is Federal Street and the SKYCITY entertainment area.
Links with trains, b.line and other buses
Convenient way to get around central Auckland and inner suburbs
Current Offers
CORPORATES
Off Broadway has been operating as the most up to date corporate motel now for 9 years and is always looking at ways to improve.
Walking distance to local restaurants and charge-back facilities available to your company account when you dine in selected restaurants.
All of our rooms have two telephones one beside and one digital phone on the main desk.  We are able to set up conference calls between rooms and also to outside lines.  Wireless broadband is available throughout the motel.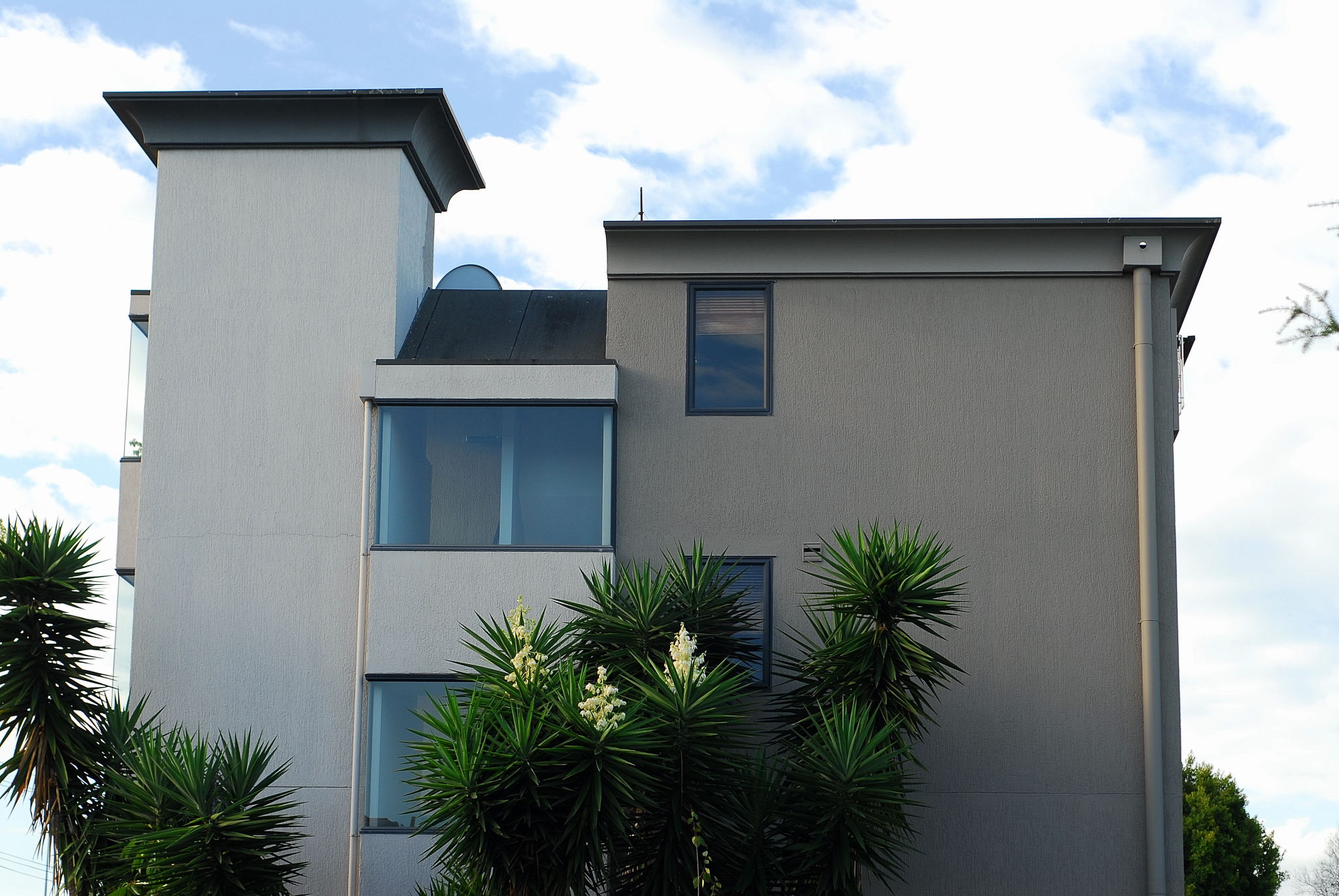 Location
Newmarket is such an exciting place to be and we're thrilled to be in such a vibrant location near many Auckland Hospitals.
You will find NZ top names in fashion, and world-class shopping not only on the main street near your accommodation, but also along the many smaller side roads around the area.
Enjoy the huge selection of cafés, and the diverse range of award-winning eateries at walking distance from our accommodation, that make Newmarket such a gastronomic magnet in Auckland. Whether it's a cosy meal for two or corporate event to launch your marketing campaign, you will never run out of venue options in Newmarket.
Walking distance to Newmarket shops, cafes, restaurants & bars, Olympic heated swimming pool & fitness centre.
Close to Vector Arena, Parnell & Remuera shops, churches & cathedral, Mt Smart stadium, Ellerslie & Alexandra racecourses, university, ASB Show grounds, Mercy Hospital, eye clinic & major Auckland hospitals, on Auckland bus route and walking distance to Newmarket railway station.
5-minute drive or 20-minute walk to EDEN PARK STADIUM – rugby & cricket venue.
Off Broadway Motel is the nearest Motel to Newmarket shops, cafés, bars, Olympic heated pool, spa, sauna, steam room, Mercy, Starship Hospital and gymnasium. 5 Minutes to Silvia Park Shopping centre, 4km to Auckland CBD and casino. 16km to airport and Rainbows End Amusement park. 8km to Kelly Tarlton's Underwater World. Close to Parnell and Remuera shopping centres, Ellerslie and Alexandra Park racecourses, university, showgrounds and major Auckland hospitals. On Auckland's bus route, 3 km to Eden Park Rugby & Cricket venue.
CONTACT US:
11 Alpers Ave, Epsom, Auckland 1023
0800 427 623
0800 4 BROADWAY
+64 9 529 3550
fax +64 9 529 3551
info@off-broadway.co.nz
"Small contribution towards a global achievement by gathering with one vision – Environment"
Environment Policy
At Off Broadway Motel we recognize that sustainability is the best practice for our future. We strive to minimize the environment impact of our daily business operation by actively engage initiatives that protect the environment and by depending on our guests to hold our hands to do so while they stay with us.

Off Broadway Motel 11, Alpers Avenue, Newmarket, Auckland 1023